Company
Comcor Engineering was established in 1993 by a group of young mechanical designers who decide to join together and grow with their straight of innovation and passion the world of industrial design. The enthusiasm of our designers in dealing with new challenges encouraged their professional growth.
The business climb of Comcor Engineering continues at the international level through the years. So, the Slovakia Comcor Engineering was established in 2007. The office of Maranello was established to follow the development of activities of the most prestigious customer, Ferrari Spa.
The Comcor Development srl of Rovereto (TN) was established at 2017.
The Comcor Engineering is the Engineering Company that actually consist of more than 90 designers who have a big passion for the mechanics and for the Automotive sector.
The company head office and the designers offices are located at Casinalbo city centre.
The Commercial Distribution office is located in the industrial area of Casinalbo, with a total area of 1000 m2, 800 m² of which makes up the productive sector and 200 m² the offices.
All the buildings are equipped with facilities for the design and manufacture of robotic systems and specialized equipment.
News & Events
Comcor
COMPOSITES PHENOLIC RESIN BASED "THERMOSETTING" IN AUTOMOTIVE POWERTRAIN was the [...]
Comcor
We thank all those who have shared this important moment [...]
admin
Welcome to the new Comcor website! We are online with [...]
Contacts
Information request
Required fields*
Comcor Engineering srl
Via Bramante, 1/b
41043 Casinalbo (MO)
Tel. +39 059 551626 centralino
Fax +39 059 551681
Rappresentanze industriali
Distribuzione commerciale
Automazione industriale sviluppo prototipi
Via Einaudi, 36
41043 Casinalbo (MO)
Tel. +39 059 551317 commerciale
Tel. +39 059 551626 centralino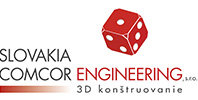 Slovakia Comcor Engineering s.r.o.
Masarykova, 21
040 01 Košice
Slovakia
Tel. / Fax +421 55 6770919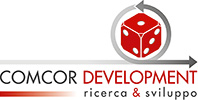 Comcor Development srl
Via Fortunato Zeni, 8
38068 Rovereto (TN)
Tel. +39 046 4443293
Ufficio numero 2E.18, corpo L, primo piano.